Foxwell Fox Terriers

offspring of Ch. Foxwell Salcrest Winter Rose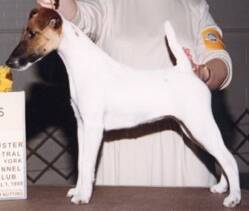 Dane                                                                         Emmy

         Ch. McGypsi's Quietus Maker, ROM

(Ch. McIntosh Bo'sn Of Foxden  x  Ch. McGypsi's Ballet Dancer, DD)

Emmy was bred to Dane twice.  Her first litter was one boy, who went out as a pet.  

The second litter produced two very nice pups from a litter of 5.   After Emmy finished raising

her second litter, she was returned to Sally Ann Healy (Salcrest) in Washington.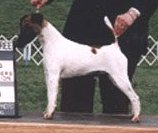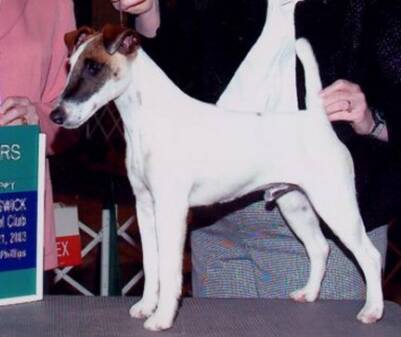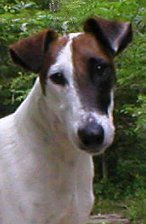 U.UKC & AKC Ch. Foxwell Slings & Arrows

"Teddy"

Co-bred by:  Linda Sallee-Hill & Jill Soble-Smith (McGypsi)

Owned by:  Sharon Yon

Sharon bred her Sheffield's First Alarm, ME  to Teddy,

and the result was two bitches.

UKC & Am. Ch. Sheffields Six Bells

"Bell" (photo at 2 years of age, Oct 2004)

( Ch. Foxwell's Slings & Arrows x Sheffield's First Alarm, ME )

Copyright 2000 Linda Sallee-Hill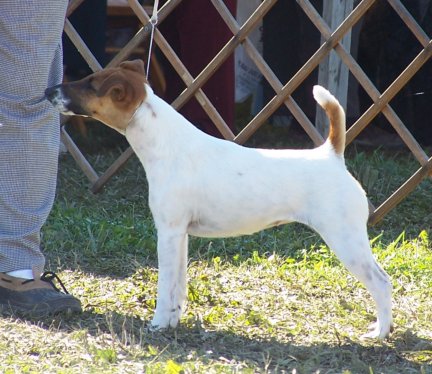 Bell was bred to Ch Sealgair Came To Conquer 10/2010,

which resulted in 2 bitches, 1 dog:

Sheffield Lady In Red of Foxwell (photo below)

Sheffield Phoenix Rizing