Foxwell Fox Terrier's

Information and offspring of  Ch. Phoxmyth Walk The Plank, ROM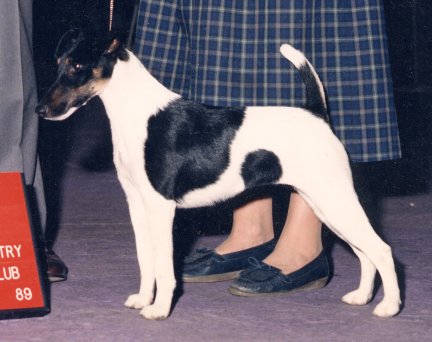 Ch. Phoxmyth Walk The Plank, ROM

(Ch. Quissex Pennine Policeman x Heathcote Miss Scarlett)

When one is able to attend Montgomery County, the American Fox Terrier Club's National Specialty, it is a mind altering experience for the first time.

I made my first trip to Montgomery in 1989 with my homebred, Ch. Foxwell's Lady In Red, ROM, who was rated #4 owner/breeder handled at that time.   I am happy to say we were in the final cut at all three shows, Hatboro, Devon AND  in the final line-up of 7 at Montgomery County.

the year Ch. Toofox White Hunter won the breed.

I roomed with Virginia Ashlock (Laurelton), and of course we watched every dog shown with great focus.   A little bitch that Winnie Stout (Quissex) was showing caught our eye, and we approached  her about the bitch.  She agreed we could take her home (Virginia & I agreed to co-own her), and we became quite nervous when Winnie placed 2nd in a very large Open class with her. 

We were afraid that would increase her price a great deal!

However, Winnie was more interested in a few puppies back - so that solved our problem!

The only thing we had to figure out now, was who was to take her home, me to Oregon or

Virginia to Southern California.   Luckily I spotted a friend and handler, Lori Kauth,

who hails from the San Francisco, CA area.  She agreed to take her home & finish her,

and she did by the end of 1989!  

Quite a feat since it was already October.

After Harriett completed her title, she was flown to me in Oregon.  She was bred to: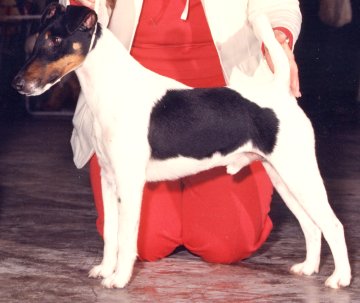 Am/Can Ch. Crag Crest Shogun, ROM

(Ch. Ttarb The Brat, SD  x  Ch. Crag Crest Violets Are Blue

Harriett was due to whelp at the same time I was moving from Oregon to Connecticut.

I contacted Winnie Stout to see if she would whelp her out - and she agreed,

so Harriett flew off to Rhode Island.

The litter was whelped May 24, 1991, and yielded 6 puppies, 4 dogs & 2 bitches.

There was a beautiful bitch I had planned on keeping.....however.....

she found her way to Lori Kauth.

Lori acquired the brother as well           

The puppy I sent to Lori became                                                 but he did not finish.

Ch. Foxwell's Treasure Chest.                                      Foxwell's Treasure Hunt

Since Lori had done so much work with Harriett, and

loved the dog, after Virginia signed off of her, I sent

her to Lori and signed off.

Lori bred Harriett to

Ch. Legacy's Rex Morgansonne, CD

which produced:

Ch. London's Suddenly Seymore &

Ch. Morgansonne Ritzi Fiona

Fiona is owned by Ruth Edwards

Fiona was bred to Ch. Aimhi Typecast and

produced

Ch. Morgansonne Dairydell Eme, NA,

Ch. Morgansonne Dairydell Ozzy &

Ch. Morgansonne Dairydell Zackary

Ch. Foxwell's Treasure Chest produced:

Ch. London's Full Metal Zipper

Sired by:  Ch. Legacy's Rex Morgansonne

and

Ch. London's Ballatore of Seamist

Sired by:  Ch. Dawn Heir's Pick Of The Wiz

This bitch went Best in Sweepstakes at

The Fox Terrier Club of Northern Calif. Sept. 1993

and Winners bitch at the Great Western Specialty

in Santa Barbara  July 1994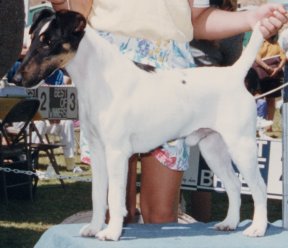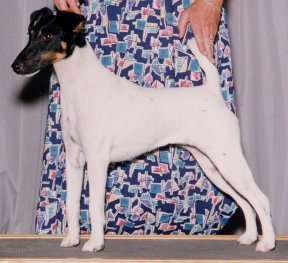 Copyright 2000 Linda Sallee-Hill