Foxwell Fox Terriers

Offspring of Ch. Foxfaire Flying Colours, ROM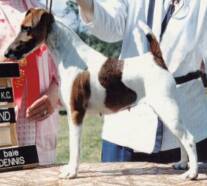 Can. Ch. Foxwell's Copyright, ROM

"Millie"

Millie acquired 11 points & a major in the US.

She was acquired by Winnie Stout  of Quissex, who passed her onto

Emily Graton of Trollhattan Kennels

who finished her Canadian Title.

She was then retired to the whelping box where she produced some very nice offspring.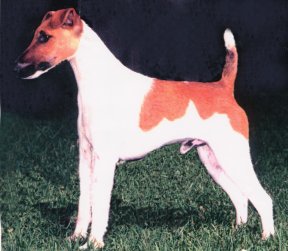 Ch. Foxden Archer  "Archie"

Archie was an exciting young dog to show, after acquiring his title for us, along with some Specialty wins he was acquired by Winnie Stout, of Quissex,  Winnie passed him on to Rebel Hil kennels in TN.  It is unknow what he produced there.  Eventually he was returned to me, and placed in a pet home.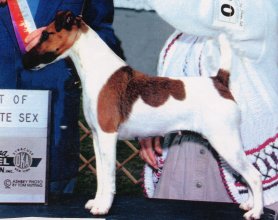 Ch. Foxden's Quest of Daystar, ROM

"Tootsie"

Purchased by Lorrie Worden,

LorQuest (formerly Daystar), NY

as her foundation bitch.

Tootsie has produced some top winners and producers

for Lorrie, one of which we co-owned,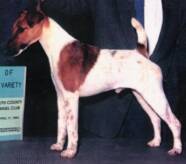 Ch. Foxden Rendezvous

"Sherman"

Sherman was a smashing young pup, and attained Best Puppy at the prestigous Boston Shows in Dec 1992  where he went on to

Group 2.  He finished his title quickly with Specialty wins,

and was purchased by Bill & Joy Muller, of upstate NY.

He was subsequently purchased and  proudly owned

until his death (cancer) by

Sally Ann Healy, Salcrest Kennels, WA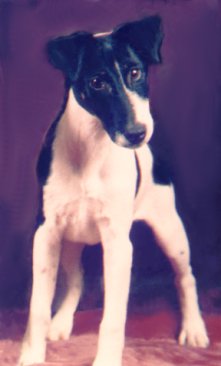 Ch. Foxden's Secret of Misty Harbour

"Spanky"

Purchased by Robert Townson, Staten Is, NY

Spanky was the third to finish from this litter. 

is unknown if he produced any litters.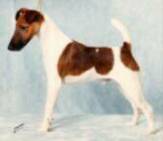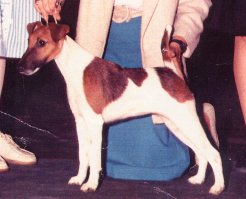 Chappy


Ch Foxwell's Champagne Charlie
(Ch. Foxden Warspite, SD x Ch. Seafarer Sudden Impact, ROM)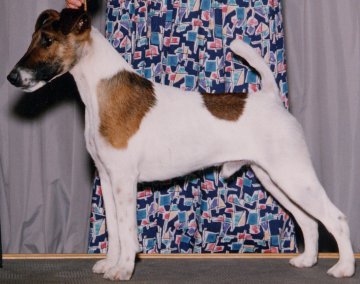 Max

Ch. Foxden Carnelian

(Ch. Foxden Sword Dancer x  Foxden Jade, ROM)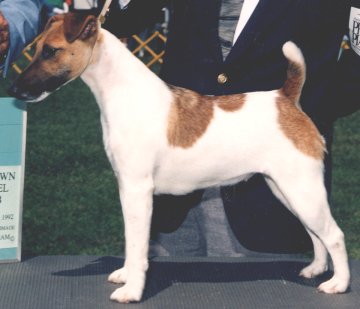 Foxden Target

Purchased by Lib Martino,

Chester Springs, PA

Target  had a total of 10 points including one major, but she was not finished. 

She has been bred, but it is unknown what she produced.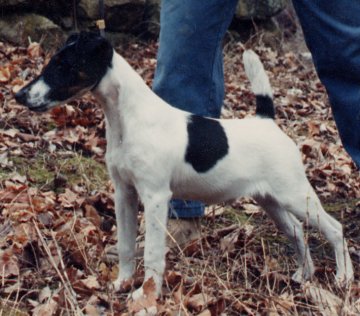 Trevor

Foxden Intrigue

(Am/Can Ch. Foxden Nauset Light, ROM x  Foxwell's Escapade)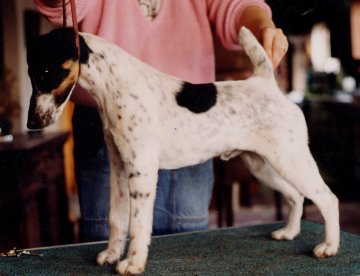 Foxden Tryst

"Bones"

This boy was only shown briefly, he headed

off to a great pet home in Springfield, MA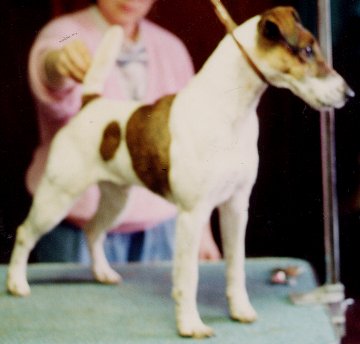 Sonny

Foxden Never Say Die, CG

(Ch. Foxden Warpaint, SD, CG x Foxden Hornet, ROM)

Foxearth Reflection

This was one of the most beautiful Smooths

I have ever produced in that time frame, however,

she just was not a good mover.

It was a tough decision, but I let her go to a

wonderful pet home in Woodbridge, CT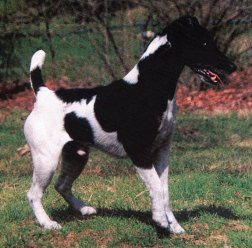 Thomas

Int'l Am Ch. Foxwell Chances Are, ROM

(Int'l Mex Ch. Laurelton Now Or Never, SD x Ch. Seafarer Sudden Impact, ROM)

Liza's first litter was by Chappy.  I had hoped for a black male, and got one, but he did not turn out for the show ring.

Liza's third litter was by Trevor.  She produced two exceptional pups.   Sherman finished quickly with Tootsie taking longer due to being mauled by a Rottweiler in her own yard when she was about a year old.

Liza was next bred to Sonny, producing two girls.

For Liza's last litter, she was bred to Thomas.   Unfortunately this litter ended up in heartbreak, as Lizas milk turned toxic and all four girls expired at 2 days of age.

Since Liza deserved better than to remain in the kennel,

so I found her a wonderful home in VT.

Copyright 2000 Linda Sallee-Hill





Liza


Ch Foxfaire Flying Colours
(Ch Amberwood Explorer, ROM x Ch Salcrest Roulette, ROM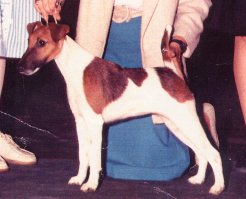 Liza


Ch Foxfaire Flying Colours
(Ch Amberwood Explorer, ROM x Ch Salcrest Roulette, ROM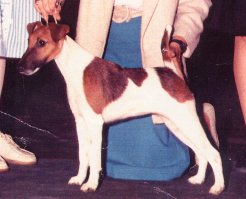 Liza


Ch Foxfaire Flying Colours
(Ch Amberwood Explorer, ROM x Ch Salcrest Roulette, ROM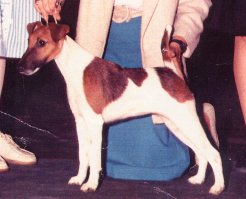 Liza


Ch Foxfaire Flying Colours
(Ch Amberwood Explorer, ROM x Ch Salcrest Roulette, ROM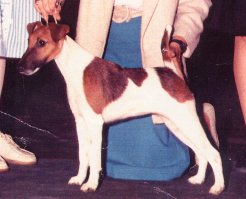 Liza


Ch Foxfaire Flying Colours
(Ch Amberwood Explorer, ROM x Ch Salcrest Roulette, ROM