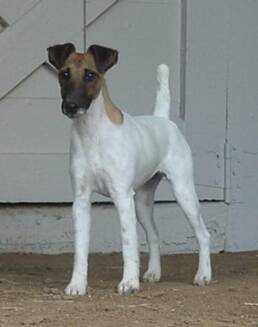 Foxwell Fox Terriers

Offspring of  Ch. Amberwood Vanessa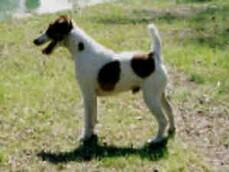 Fin. Ch. Xeres Du Bois Des Matries,   Xere  

(Import from Finland)

(Utrilo du Bois Des Maitres x Ravie du Bois Des Maitres)

Foxwell's Bittersweet

"Torrie"

Torrie started her show career off with a 3 pt. major,

Best of Winners & Best Opposite.

She went on to get Reserve at the FTNE Specialty in July 04 under Mr Rudolph Brinkmann, a breeder Judge from Germany

She was shown a few more times, then retired

as she matured on the large size.

McGypsi's Semisweet

"Coco"

Coco started her show career off when she was 6 months old, going Best of Breed and GROUP 3

two days in a row, picking up two 3 pt. majors.

She soon added another major to her list but

still needs 5 singles to finish.

Coco was shown to the majority of her wins by her

Co-Breeder  Jill Soble-Smith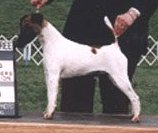 Vanna's next litter was by Dane, which only consisted of 3 puppies.  Two girls and a boy. All three puppies were in show homes, and made their debut in 2004.

Foxwell's Enigma

"Riddle"

Shown here at 8 months old at his first  showring outing.  The home did not remain favorable and he was returned to me and

now is in a wonderful pet home.

Pointed his first weekend in the ring Feb. 2004, then shown once in 2007 after his return, going reserve to my Australian boy, Riley.

Ch. McGypsi Sweet Breath Composed

"Posey"

Owned by the Linepensel's in KY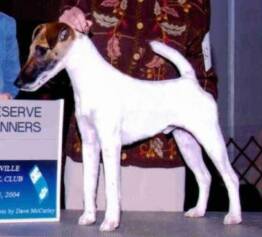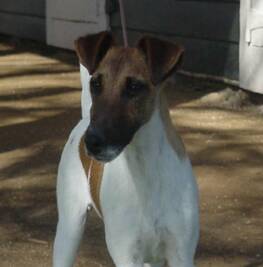 Ch. McGypsi's Flight of Angels

"Angel"

Owned by

Linda Sallee-Hill, Jill Soble-Smith & Traci Mathews

Major Pointed

St. Louis Specialty

Weekend March 2004

Her first weekend

in the ring!

Her first litter is by Riley,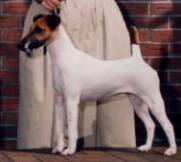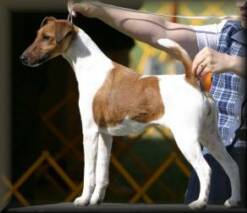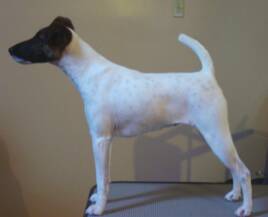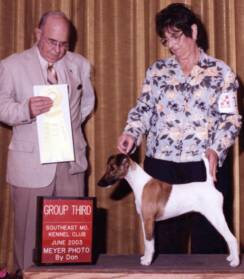 Coco with Jill at the helm

.Photo by The Linepensel's

Photo from John Boozer, III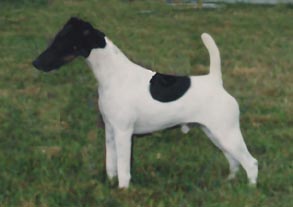 Vanna's last litter was by my Ch Buckleigh the Sentinel

There were only 2 puppies, both tan & white, one boy, one girl.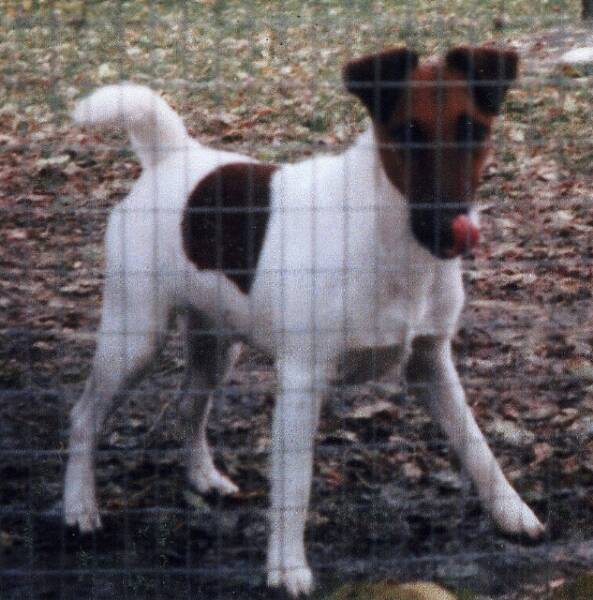 This is the boy, Paint at 18 months.

This is the girl, Jasmine at 18 months.

Vanna's  litter with Xere consisted of 2 girls.  The litter was co-bred with

Jill Soble-Smith of McGypsi, and Jill whelped the litter in TN.

Ch Amberwood Vanessa Vanna

Simon

Ch Buckley The Sentinel

(Ch Buckley Captain Fantastic, SD x

Foxwell Amberwood Fantasy

Dane

Ch. McGypsi's Quietus Maker, ROM

(Ch. McIntosh Bo'sn of Foxden  x  Ch. McGypsi's Ballet Dancer, DD)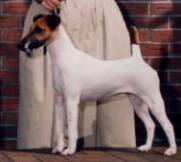 Ch Amberwood Vanessa Vanna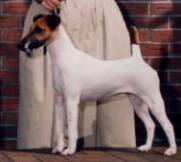 Ch Amberwood Vanessa Vanna

Copyright 2000 Linda Sallee-Hill