Foxwell Fox Terriers

When I came East in April 1991 (from Oregon) for the Maryland Fox Terrier Specialty (National Floating Specialty that spring),  there was a young dog whom I fell in love with - his style & type filled my eye, and I dreamed of owing him some day.  

I was truly shocked many years later, when I received a phone call

and was asked if I wanted him!

This was

Ch.  Foxden Renovation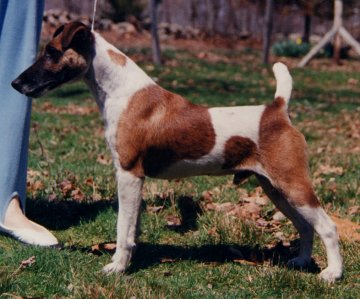 Reno is pictured above at about 6 years of age.

He was bred by Mrs. Farrell (Foxden), and was from the second litter

Ch. Foxden Touch-Up produced.   Mrs. Farrell had kindly let me lease 'Flirt' (Touch-Up) for her first litter, and I had bred her to my
Warspite son.
Reno was by Ch. Foxden Warspite as well.

Upon Mrs. Farrell's passing in Jan. 1994, Reno and some other dogs of Mrs. Farrell's went to live with Billie Lou Robison of Raybill Kennels, WA.

Billie continued Reno's show career, and he continued his winning ways on the West Coast, when they retired him, he came to me.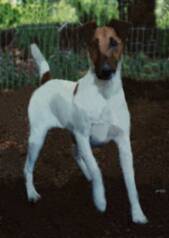 Archie Davies contacted me for input on a stud for Stacy (Foxwell Amberwood Scandal),

and of course, Reno was the perfect match.

To complete Stacy's sales contract, it was agreed they would take their pick pup and Dottie and I would split the rest of the litter, since she and I were co-owners on Stacy.

Unfortunately this was to be my only litter with Reno, but Jene Derench of Ta-Ra Kennels, MA bred  a bitch to him and obtained a lovely bitch which she showed.

Foxwell Amberwood Scandal

(Ch. Foxden Rendezvous x

Foxwell Amberwood Fantasy, ROM, NA, NAJ, CGC, TDI)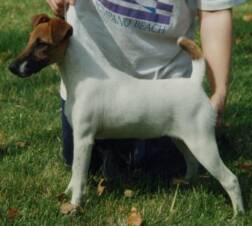 Ch. Amberwood Vanessa

"Vanna"

Vanna went to Dottie Carlson just after she was 4 months old.

Dottie showed her, and finished her at the American Fox Terrier Club National Floating Specialty, August 1999,

in Washington State

with a 5 pt Major.

Vanna has produced some outstanding offspring.

to the left is a photo of Vanna when

she was about 4 months old,

prior to heading west to Dottie.

Since The Davies have been unable to produce a litter out of her sister, Maddie, Vanna has been returned to them in hopes that she will fulfill Archies desire for the next step in their breeding program.

Davmar Northern Star

"Mattie"

Mattie was Archies choice to keep from this litter.  She was never shown,  but she

never produced a litter for them.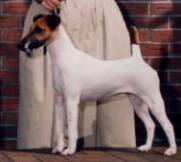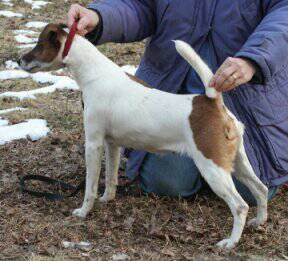 Copyright 2000 Linda Sallee-Hill
Photo by Linda Sallee-Hill

Photo by Linda Sallee-Hill